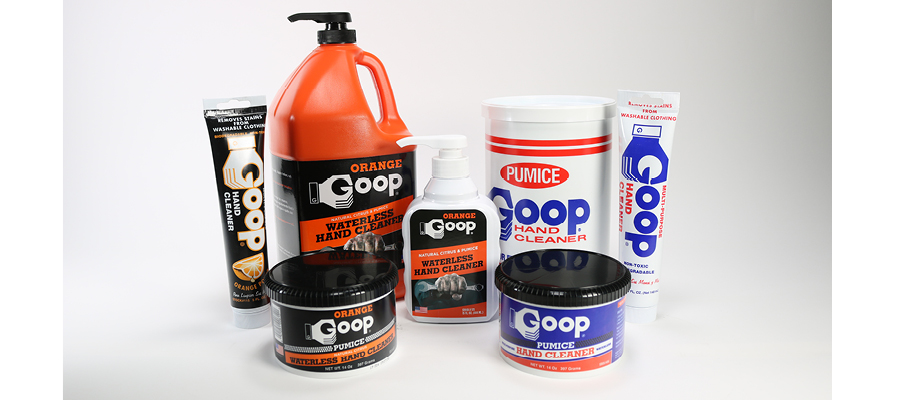 We are excited to announce we have been appointed as the exclusive supplier of GOOP, America's number one multi-purpose hand cleaner since 1949. GOOP will be coming to the UK for the first time through TIMco later this month.
GOOP is a "waterless" hand cleaner that quickly and safely removes grease, paint, ink, tar, industrial soils and can also be used to clean tools. The non-toxic and bio-degradable product is made from the highest quality, premium ingredients and is specially formulated with natural moisturisers to leave your hands clean and soft. Original GOOP, with pumice to give it a more abrasive, cleaning power, is available in a range of sizes for a variety of applications.
The GOOP range also includes a citrus infused 'Orange GOOP'.  The Orange GOOP uses all natural citrus cleaners to remove the toughest of soils, with no harsh chemicals or solvents.  The product is available in multiple sizes, with fine pumice scrubbers to help remove those extra tough stains.
The partnership is a further illustration of how TIMco is extending its Site Protection range to reflect our commitment to safety in construction, as well as delivering on the company's strategy of becoming a 'one stop shop' for builders' merchants. The new GOOP products follow last year's launch of first aid kits which include a selection of workplace and vehicle first aid kits, as well as a heavy bleed and burns kit. The range also includes an eye care kit, heavy duty plasters and an accident book.
Simon Midwood, Managing Director of TIMco, comments: "We're proud to have been selected as the exclusive supplier of GOOP in the UK. It's a hugely popular and proven product that fits very well with our rapidly expanding range.  We're excited to be bringing the product to the UK and believe it will be well received by both merchants and end users."
Billy Schleifstein, President, International Division, GOOP DIV Critzas Industries, Inc. added: "TIMco has a long-standing reputation for providing high-quality goods and services, attention to detail, as well as, exceptional levels of customer assistance. We find this admirable, and it definitely struck a positive chord with us. We are all very excited about this new partnership, and welcome TIMco as a member of our extended family."
GOOP will be available to purchase from TIMco's website and nationwide stockists later this month.